President's Message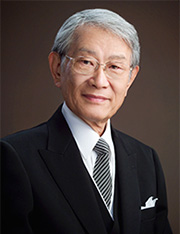 President
Hiroshi Matsumoto
Riken was established in 1917 as a foundation for scientific and application research to promote the growth of Japanese industry, and marks the 100th anniversary of its foundation in 2017.

As the sole comprehensive research institute of the natural sciences in Japan, we have consistently performed leading-edge research in a wide array of scientific areas encompassing physics, engineering, chemistry, computational science, biology, and medicine, in response to the needs of the times. Our staff is comprised of 3,000 researchers and 500 administrative employees.

Since April 2015, when I began to serve as president, RIKEN has been maximizing research and development outcomes effectively and efficiently, and valuing researchers' autonomy and abundance of ideas, with strong awareness of our social responsibility as a national research and development institute.

RIKEN offers a forum for highly diverse research, with outstanding researchers gathering from many countries. We have established the Hub Headquarters in Science and Technology to promote global circulation of intellectual and interdisciplinary and inter-industrial cooperation, and have been collaborating with a more diverse range of research and other institutes.

In December 2016, we established the Office of Diversity Promotion, having obtained a subsidy for promoting science and technology system reform from the Ministry of Education, Culture, Sports ,Science and Technology. RIKEN will continue striving to realize a diverse research environment for people of all generations, including female, male, researchers, engineers, administrative staff, non-Japanese and Japanese people, and people with and without physical or other challenges, so as to promote further creative scientific activities and innovation.