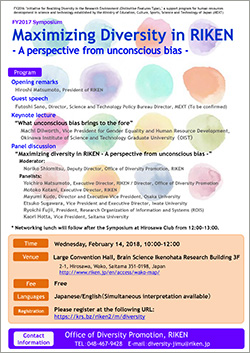 Since FY2016, RIKEN has been engaged in "Diversity Research Environment Initiative" with a subsidy for science and technology human resource development of MEXT. In this initiative, we aim to create an environment, in which each member respect individual self and demonstrate and maximize one's ability beyond various differences.
Promoting diversity is important in order to realize further improvement of science and technology standards and facilitation of innovation.
In recent years, "unconscious bias" is gaining attention as one of the important factors that impedes diversity. This time we will host a symposium to enhance our awareness and deepen our understanding of this bias.
In many universities / national research and development corporations etc., diversity and gender equality have been actively promoted. We would like to take this opportunity to exchange information and views with other organizations.
After the symposium, networking lunch will be served.
We are looking forward to everyone's participation.
Time
Wednesday, February 14, 2018, 10:00-12:00
*After the event, networking lunch will follow. (12:00-13:00)
Subject
General public/Researchers
Venue
Large Convention Hall, BSI Ikenohata Building 3F, 2-1, Hirosawa, Wako, Saitama 351-0198, Japan
Languages
Japanese/English (Simultaneous Interpretation available)
Fee
Free
Capacity
100 people, first come first served *Please register in advance.
Registration
Please register from the following link.
https://krs.bz/riken2/m/diversity