Enhancing the research capabilities of women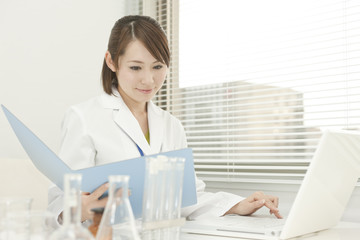 The following measures will be implemented to enhance the research capabilities of women researchers
❶

Support to improve research skills / support to secure competitive research grants

Allocation of research funds to outstanding women researchers
Symposiums, seminars, etc., for improving research capabilities
Mentors and networking opportunities

❷

Ensuring that RIKEN keeps track of researchers' needs to improve their skills and capabilities
Support for securing competitive funding
We provide support to women researchers to secure competitive funds, as well as to improve their laboratory management skills.
When applying for competitive funds, certain skills are required to fill out the application forms, such as creating appropriate project titles and effectively conveying highly specialized research details in readily understood language. It is also important to fully understand your own positioning in a project and to plan an application strategy that takes into consideration the competitiveness of a grant and the people who will be screening applications.
Support measures include seminars and lectures on how to secure and use competitive funds. We make sure to provide the most up-to-date information with the help of experts from such funding agencies as JST and JSPS.
Symposiums and seminars to enhance research skills and capabilities
A PI (principal investigator) must have excellent management and leadership skills. Management refers to the effective and efficient use of human resources, materials, funds, and information, while leadership refers to having foresight and vision, problem-solving skills, and the ability to provide guidance to achieve the laboratory's objectives. Outstanding leaders can be very effective with stakeholders and team members as well as society at large.
Mentors and networking
In setting up a laboratory, a PI must secure funds, facilities and equipment, and researchers in as efficient and effective a way as possible. At RIKEN, we provide new PIs with mentors to guide them in these tasks, as well as international networking opportunities to expand their contacts and improve their skills further.